Armidale Cycling Club presents the 15th New England Festival Criterium on Sunday March 17th 2019, sponsored by Regional Australia Bank.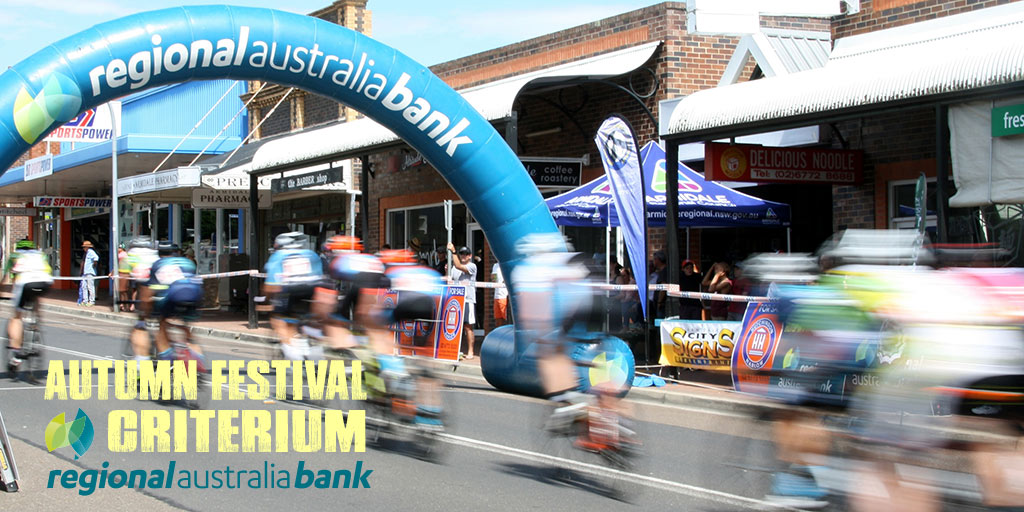 Click Here to Register
Criterium Race Details
Fantastic City Centre circuit with Fully-closed roads
Great event for spectators who can watch the action close-up free of charge
Large Prize Pool
Hot Lap Time Trial for first 10 riders to register in each grade on the day
Intermediate Sprint Prizes
A to D Grade and Junior Races (grading preferences given to pre-race entries)
Register by Wednesday 14th March to secure your place
Juniors $10, Seniors $20 pre-race or $30 on the day
All Cycling Australia licenced riders welcome
Day Licences accepted – riders need to obtain these from Cycling NSW/CA beforehand
Note: Final grading and number of races subject to sufficient registered riders.
Provisional Program – Sunday March 17th 2019
07.45am – Sign-on open
09.00am – Juniors Hot Lap (under 15)
09:15am – B & C grade Hot Lap
09:30am – C grade – 25 mins plus 3 laps
10:15am – A grade Hot Lap
10:30am – B grade – 35 mins plus 3 laps
11.30am – Junior Handicap
11:45am – A grade – 45 mins plus 3 laps
Race Gradings and allocated rider numbers will be available HERE after registration closes.
Online Registration
Please register online to reserve your place now – just click the button above, it takes less than a minute. Payment can then be made on the day. Note places are limited so don't delay!
Circuit Details
The circuit is the same loop that has been used previously – you can view it here on Strava.
Local coffee shops and cafes will be open all morning with excellent vantage points throughout. Spectators are free to watch from any part of the circuit which will be taped off for rider and spectator safety. Sunday is the culmination of the 2-day New England Festival so bring your friends and family and make a weekend of it in beautiful Armidale.
Further Information
If you have further questions in the lead-up to the race, email info@armidalecyclingclub.org or contact Armidale Bicycle Centre on 02 6772 3718.